Jim's Clothes Closet is the ultimate one-stop shopping destination for men's clothing, offering an exceptional and comprehensive selection, ranging from work clothes to formal wear, and everything in between.
A huge selection and convenient shopping is a cornerstone of the business, says Drew Bradley. It has to do with male shopping habits.
"Guys typically don't like shopping," Drew says.
"That's because a lot of stores are more specialty focused, whereas we like to have everything in one stop so they can come in and get their work clothes all the way up to their casual weekend wear, new shoes and tuxedos and suits.
"The secret to our success is that for guys – whatever they have in their life – whether it's work, or a wedding, or a funeral, a back-yard barbecue or even high school graduation, all they have to do is come to Jim's. We'll get them set up and they'll be good to go. Men are creatures of habit, and when they shop, they just want to get it done."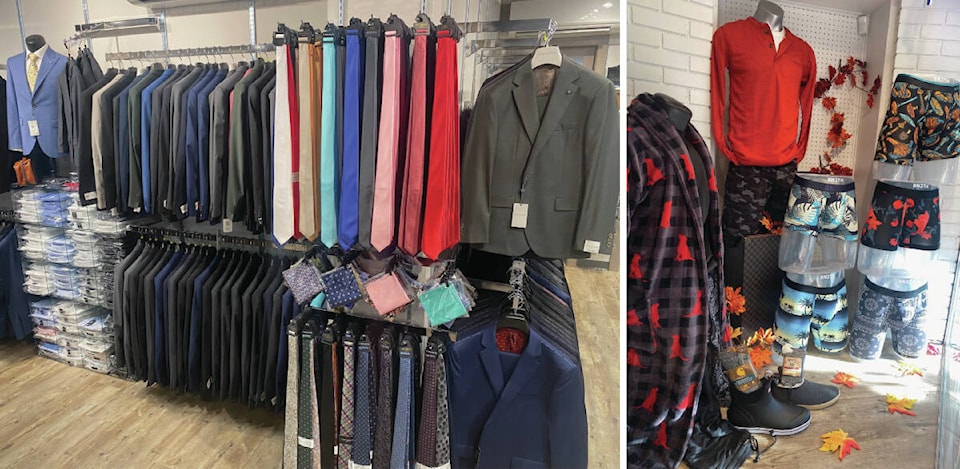 Jim's Clothes Closet's Duncan location has been in business now for a year, but the clothing chain's history in British Columbia runs far deeper than that. Jim's Clothes Closet has been in business for 55 years, primarily on Vancouver Island.
"We've grown from one store to six stores in the last 15 years," Drew says. "We started in Port Alberni in 1968, we went to Courteney after that, then Campbell River. Duncan is our newest physical store, and we've also launched an online stor.
"We often first meet our customers during their high school graduation, where they get measured for their formal suits. However, once they step into our store, they discover that we have clothing for all aspects of their lives. Whether they enter trades or the business world, we've got them covered. We also serve their dads and grandfathers. Our clientele ranges from 18 to 90 years old."
In a retail world that's all about location, location, location, Jim's Clothes Closet has a local advantage in that their Duncan branch is on the site of a former menswear business which had been operating for more than 80 years.
"We set up shop in the old Martin's menswear space," Drew says, when the premises became available to rent. "It's been a great success.
"We've had a great first year in the community and the community support has been overwhelming," Drew continued.
Jim's Clothes Closet's Duncan branch is at 33 Station St., beside the Bank of Montreal, phone: 250-856-1090. Their online store is at shop.jimsclothescloset.ca