A great benefit of living on Vancouver Island is the wealth of unique, local shops in our own backyard. Designed, hand-crafted or created with the Island firmly in mind, from one-of-a-kind artisan pieces, to local ingredients crafted into a delicious meal, you don't have far to look for something sensational this holiday season!
Even better, supporting our friends and neighbours here in the Cowichan Valley keeps those dollars right here at home. After all, local shops and services tend to support local themselves – including other businesses, and their community, notes Katherine Worsley, from the Cowichan Lake Chamber of Commerce.
According to Buy BC, for example, "BC local businesses create more than double the economic impact of their chain competitors. For every $100 spent with a BC local business, $63 is re-circulated back into our BC economy (versus $14 for multinational corporations). Additionally, local restaurants re-circulate 68 per cent compared to 30 per cent for chains.
Living local at the Lake
If you haven't visited the Cowichan Lake region lately, there's no better time to come explore the decorated village streets, pick up last-minute holiday necessities, and relax lakeside over a delicious meal.
"The Cowichan Lake area has so much to offer. Our community is a unique shopping and dining destination, and now's the perfect time to go out and enjoy it," Worsley says.
And with the current shipping delays plaguing many areas, discovering what's in store down the street means Christmas morning arrives with no waiting (or worrying) required!
Find eco-friendly gifts at Swordfern Boutique, holiday essentials and handmade bath bombs, masks and more at Lorna's Emporium, fashion essentials from Dot's Shoes, and oh-so-chic gifts for children and adults at Lake Mercantile. In Honeymoon Bay, don't miss the delightful offerings at Fanny's Farmhouse!
The fishing enthusiast in your life will appreciate a visit to Lake Cowichan Fly & Tackle, or for the handy person, home decorator or cook, you'll find lots in store at the Cowichan Lake Home Hardware. And Butler Locksmithing is much more than locks! Find used books, art, signs and more.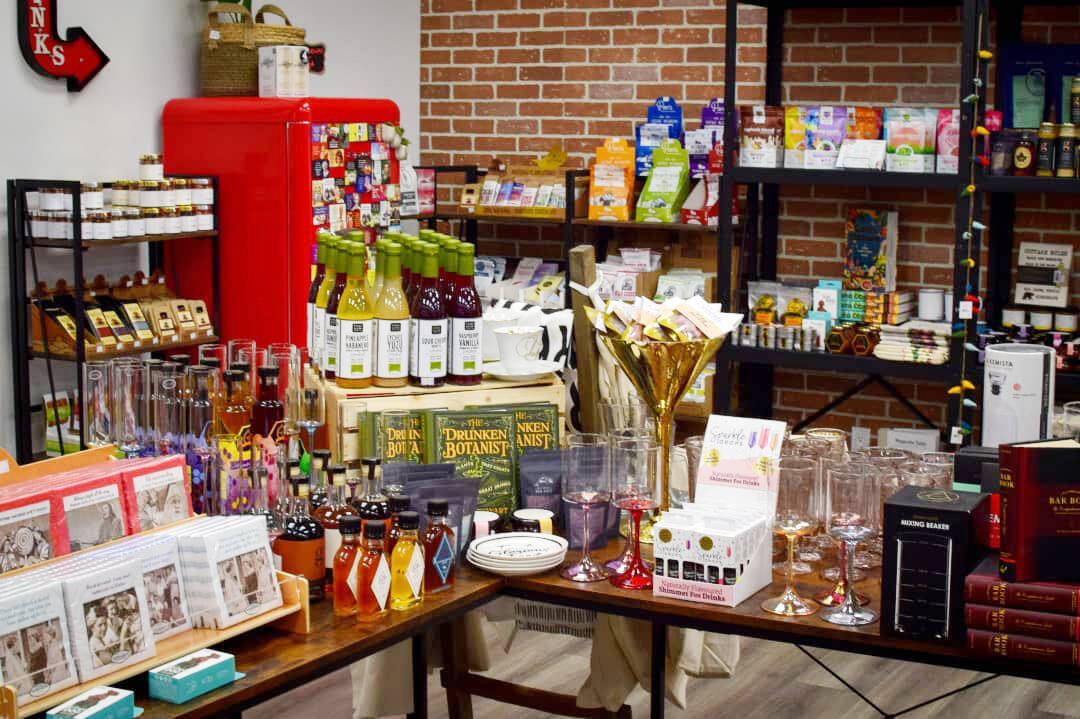 Experiences to savour
Savour a holiday meal or drink with friends and family at Farm Table Inn, Youbou Bar & Grill or River Side Inn, and check out Ed's Coffeehouse for local art alongside treats and coffee!
How about a gift certificate to savour now or later? Try Jake's at the Lake, J & V's (32 milkshake flavours!), Cow Cafe, Lakeside Sushi, Grab Bag, Gerard's Specialty Foods – now open for take-out – and the Honeymoon Bay Food and General Store, for stocking stuffers like Lotto tickets and everyday essentials.
For a fun Christmas activity for the whole family, head to Cassy's Coffee House to view Jones's Christmas Village – an award-winning Christmas display with 200+ houses. This year, donations support the Cowichan Cancer Centre.
Local services are another excellent last-minute gift idea. Music Together Mid-Island shares the joy of music with young children (newborn to age 5), while adults and youth can explore the gift of song with Voice Care Vocal Studio.
Give the gift of personal care with Serenity Yoga at the Lake, Salon Muse – recently opened in Lake Cowichan! – Ramblerose Hair Studio, Remedy Salon, Heads or Nails Salon and Spa and George's Hair & Tanning. Cutz by Skutz offers barber services and Angie's Esthetics is now home-based in Honeymoon Bay.
Find all the ingredients for your holiday dinners and get-togethers at Country Grocer or Honeymoon Bay Food and General Store, and if you'd rather not cook, there's the Farm Store at Farm Table Inn, packed full of homemade meals and local wines.
Give the gift of a getaway to Farm Table Inn, Cowichan River Lodge, Handsome Dan's (located in Port Renfrew), Greendale Riverside Cabins, Honeymoon Bay Lodge & Retreat or Lake Cowichan Lodge.
The gift of time is always welcome!
Support local arts through the Cowichan Lake Arts & Culture Society, the Kaatza Art Group or the Kaatza Lakeside Players, or give back to the community through 100+ Laker Women, the Elks, the Lions and the Kinsmen/Kinettes, the Cowichan Lake Salmonid Enhancement & Hatchery Society, the Cowichan Lake Community Forest Co-op, Cowichan Lake & River Stewardship Society, Save Our Holmes Society, and the Cowichan Lake Trail Blazers. Don't have time to volunteer? You can always donate to the Lake Cowichan Food Bank, Cowichan Women Against Violence or the hamper program at Cowichan Lake Community Services!
The Cowichan Lake area has so much to offer – shop local, dine local, donate local and support local!