A group of students from the University of Victoria are using their voices – and gardening tools – to fight for biodiversity on campus.
Overgrow UVic is made up of mostly environmental studies majors who met while working on a project for their class. On the dark, quiet night of March 27, they broke ground on a small – unapproved – garden in front of the library on campus.
They planted nine native species of plants, including wild strawberries, native flowers and grasses, plus a Garry Oak tree.
"We were looking to emulate a Garry Oak meadow ecosystem because those are quite rare now on Vancouver Island," said Overgrow UVic member Autumn Bissett.
Another member of the group, Bitty Aleah, who is from the We Wai Kai First Nation, said the plants chosen for the garden were also culturally important to Indigenous people.
"They are species that would have been found in the area prior to colonization, so we were just kind of helping restore some of the ecosystem that had been there, reminding the land what it used to be," Aleah said.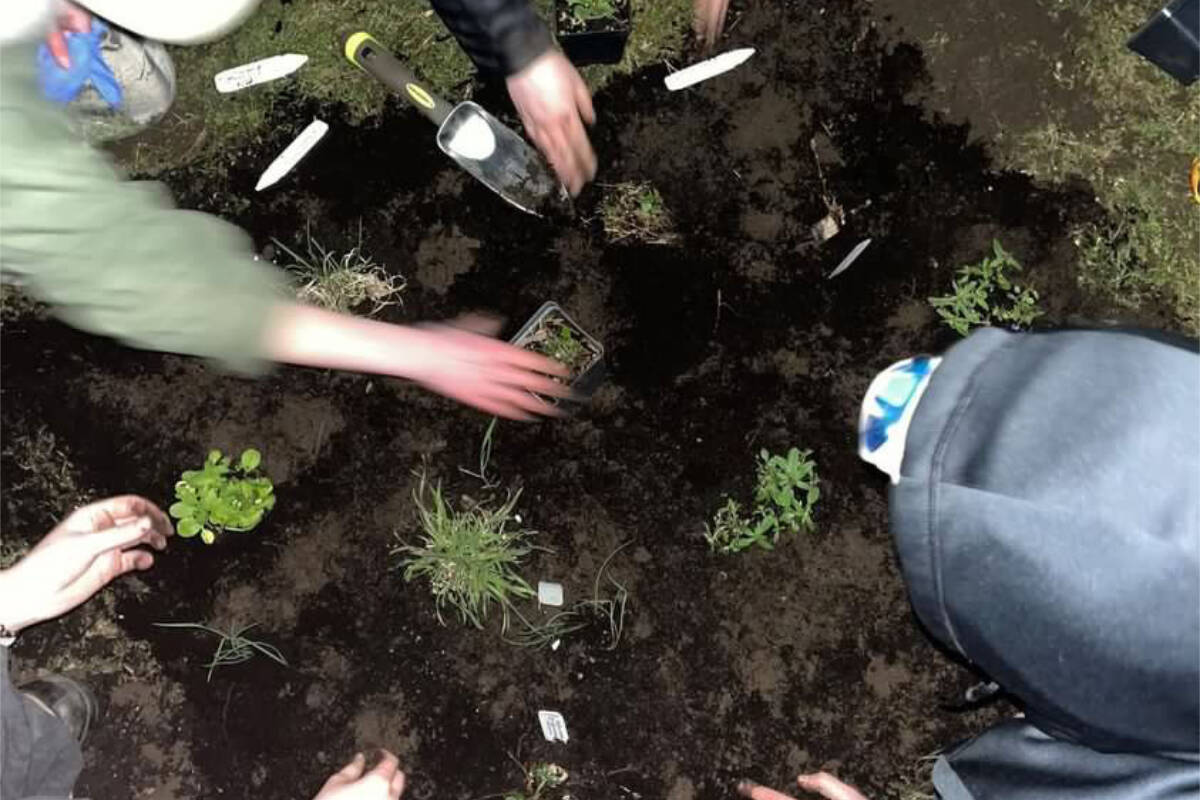 The group's act was inspired by a Guerilla Gardening project in 2010 when the group Resistance is Fertile planted small gardens with edible plants at UVic to bring awareness to food insecurity in Victoria.
Guerilla Gardening is a form of activism that involves planting gardens on land you don't own, Bissett said. Guerilla Gardening can be as easy as throwing a seed bomb into an unused lot, or can go as far as setting up entire community gardens, she said.
After the seven women of the group bonded over their love of plants and fascination with native species, as well as their disdain for monocultures like the manicured lawns at UVic, they decided to become Guerilla Gardeners themselves.
Monocultures, as opposed to biodiverse environments, consist of one species of plant or crop, Bissett said.
"The lawn is a classic monoculture because it is just Kentucky Bluegrass, and people actually put a lot of energy and resources into maintaining that it stays only Kentucky Bluegrass," she said.
Managing the lawn requires fertilizers, mowing and landscaping just to keep other native species of plants out, another Overgrow UVic member, Shaye Ogurek said.
The result is fewer pollinators, native bugs and native plants contributing to the biodiversity of the area, she explained.
"It has been shown again and again that increased biodiversity increases ecosystem stability, so ecosystems are resistant to disturbances from, for example, the heat wave we had two years ago," Ogurek said. "So more species create more connection between species, which creates more ecosystem services."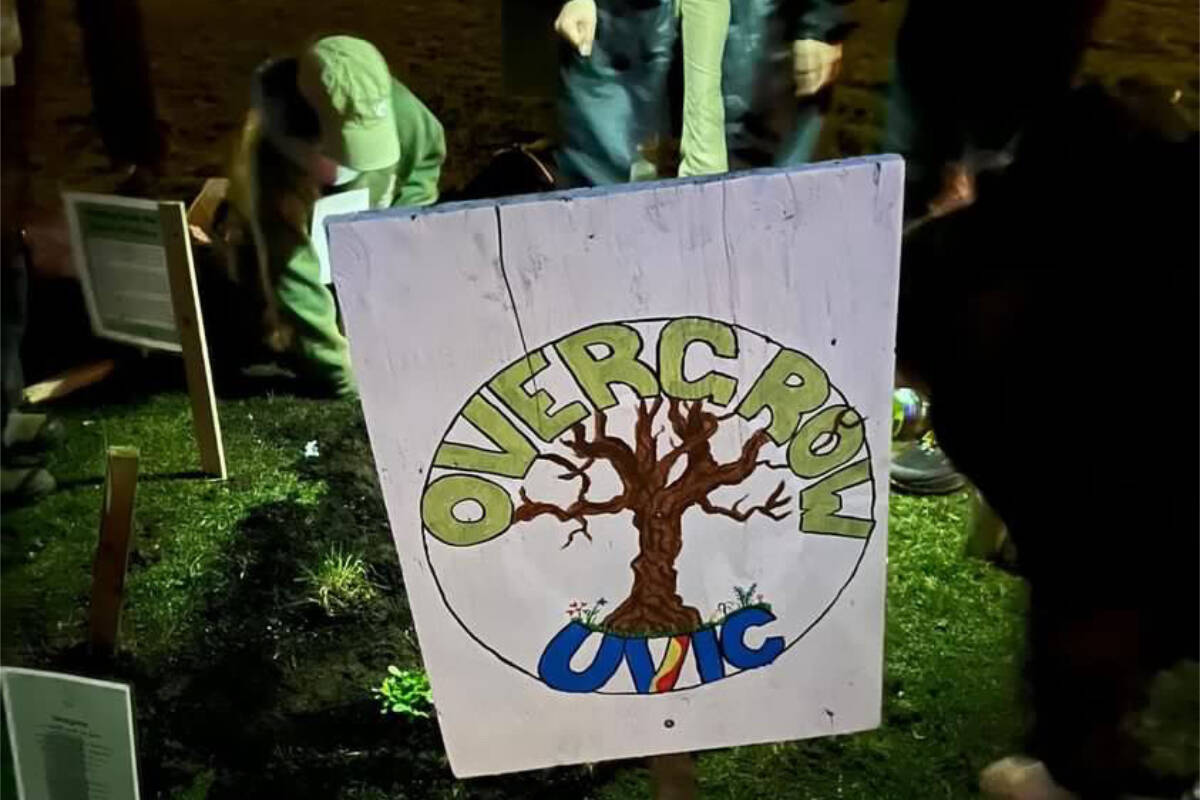 Ecosystem services include oxygen production, healthy soil drawing down carbon and pollinators aiding in fruit creation, Ogurek said. Essentially, an ecosystem service is something we as humans can use or something that benefits us.
In their garden, Overgrow UVic was seeking to build a native ecosystem, capable of producing ecosystem services. And it worked, said the group.
At least for the two days it was in place, Bissett said the little garden was crawling with native insects and working as an ecosystem.
However, it wasn't long until Overgrow UVic said the university removed the plants and the little garden became a patch of dirt, ready for more Kentucky Bluegrass.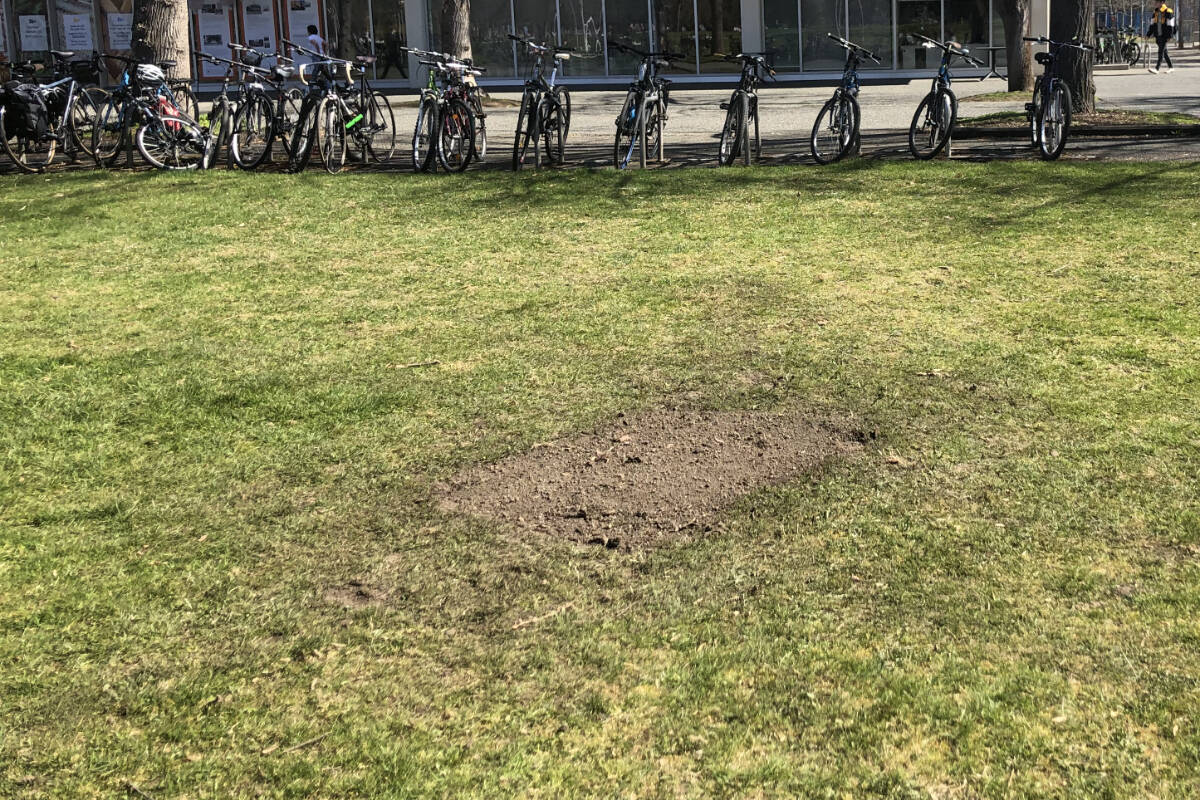 "We are quite interested to know specifically where the Garry Oak tree went," Bissett said.
While Garry Oak trees are a protected species under Saanich bylaw, this one was below the size requirement for protection.
"We hoped that it would have met a kinder end than those lost before it, but regardless of what happened to the physical garden, we believe it sparked curiosity in others," Ogurek said.
A university spokesperson said the school allowed the garden to stay in place for two days to allow the members of the group to "make their position on natural plantings known," but encouraged students to be aware of the Buildings and Grounds Usage Policy.
"While we actively support the use of our campus as a living laboratory to support teaching and learning displays and experiments, there are guidelines to follow," the university spokesperson said. "Unfortunately, the unsanctioned display that removed about a square-metre of grass to add plants was done without approval."
The spokesperson said the plantings are being stored and can be returned, reiterating the university's commitment to ecological diversity.
The group doesn't currently have plans for further gardening projects and many are graduating, but Bissett said she hopes this sparks inspiration in others.
"I want this to remind people that Guerilla Gardening is a thing and you can do it," Bissett said. "Anyone can do it and it benefits community and I think it is great to have that out there again."
---
@HLFerguson
hollie.ferguson@vicnews.com
Like us on Facebook and follow us on Twitter.