Downtown Duncan visitors have a new way to relax and savour the picturesque town centre.
This summer, the Downtown Duncan BIA and the City of Duncan have opened the Station Street Common – new for summer 2021!
Six round concrete tables with benches and red umbrellas welcome guests in the park at 85 Station St., the perfect place for locals and visitors alike to enjoy takeout from area restaurants as they soak in the ambiance of downtown Duncan this summer. Two of the six tables are designed to be wheelchair accessible.
Browse the many delicious dining opportunities here downtownduncan.ca/restaurants, where you'll find all of downtown Duncan's restaurant menus – we have no doubt you'll soon find a few new favourites.
And for a little added fun, summer weekends in the Common will also feature life-size checkers!
"It's great to be back in the Station Street Common. One of the great things that came out of this past year was that we were able to re-discover local businesses, and as we restart I hope we will continue to support our local restaurants and businesses," Mayor Michelle Staples said at the park opening.
The new commons builds upon last summer's pilot project, a partnership between the Downtown Duncan BIA, the City of Duncan and Island Coastal Economic Trust. The temporary food court, staffed by Downtown Duncan BIA ambassadors, was a popular place for residents to come together safely during the height of the COVID-19 restrictions.
This year, as the Province of British Columbia opens up after the pandemic, the Station Street Common will no longer be staffed, other than for special events. A hand sanitizer station is available at the entrance and visitors are requested to clean their area up after themselves.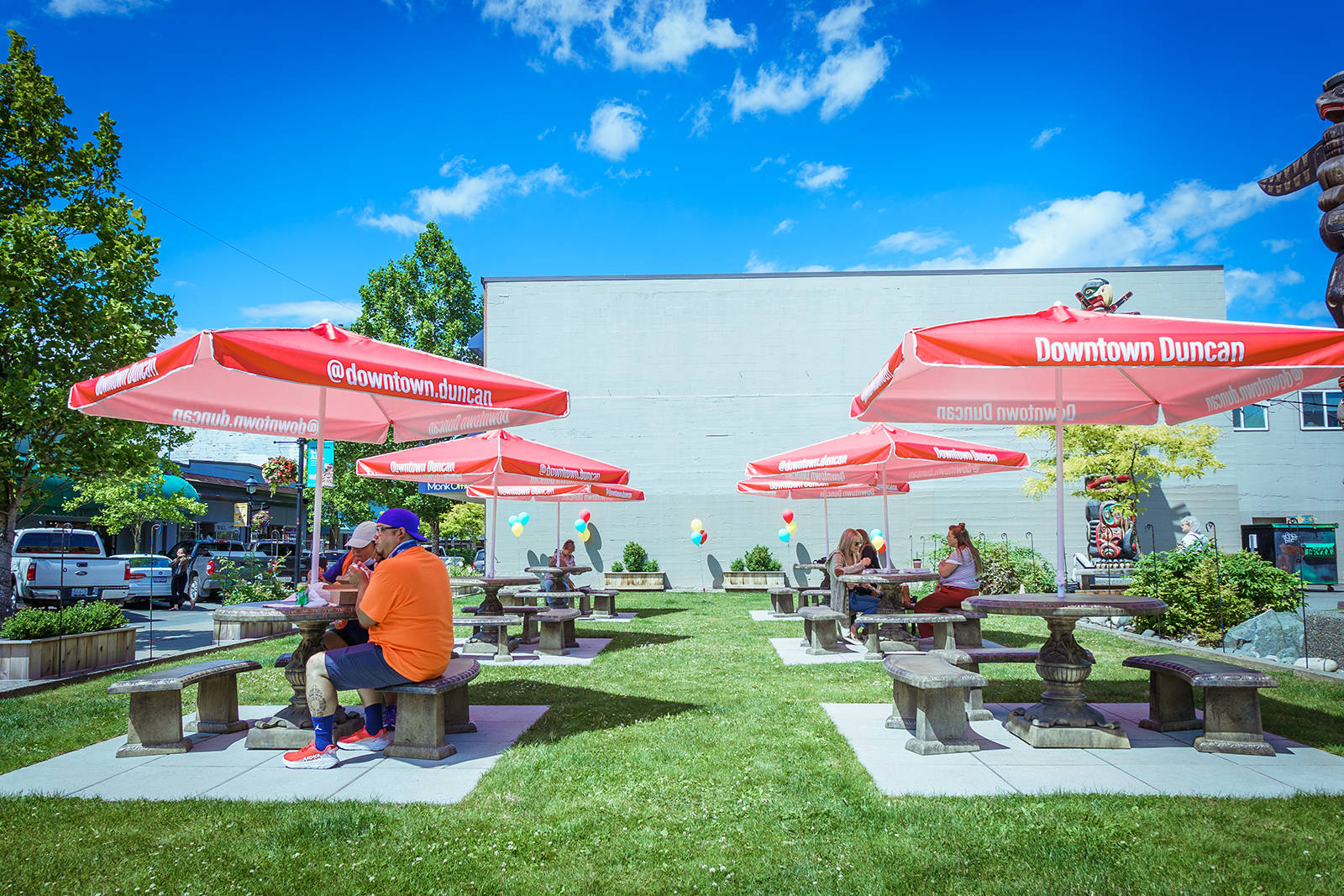 "The Downtown Duncan BIA really hopes that this cheerful gathering space will bring the community together again. We thank everyone for shopping locally this past year and ask that we all continue to support restaurants, retailers, and other local businesses," said Amanda Vance, executive director of the Downtown Duncan BIA. "We want to acknowledge the City of Duncan's support of local businesses and the Downtown Duncan BIA this past year. We are really grateful for this partnership."
READ MORE: Cowichan street sign project honours Indigenous history and culture
Earlier this year, during the Province's "Circuit Breaker" restrictions that included a ban on indoor dining in restaurants, the Downtown Duncan BIA worked with the City of Duncan and Community Futures Cowichan on a "patio enhancement program."
With a grant from Community Futures Cowichan, the BIA purchased six patio heaters to loan to restaurants, along with teal tables and red umbrellas from last summer's Station Street Common project. Local restaurants were also permitted to expand patios into parking spaces and public property, with the City of Duncan expediting application review and waiving permit fees. In some cases, the City of Duncan set up barricades for restaurants using parking spaces for expanded outdoor seating.
These patio extensions are still in place at restaurants like Fresh Kenny's, the Garage, Corner House Cafe and Arbutus Cafe. Combined with this year's Station Street Common, you'll find an abundance of outdoor seating available to enjoy downtown Duncan this summer!